(resource: New Taipei City )

Located in the north of Taiwan, New Taipei City has Keelung City in its northeast, Yilan County in its southeast, Taoyuan County in its southwest, and Taipei City in its middle. New Taipei City has diversified terrain, ranging from mountains, hills, plains to basins.

Most of the residents of New Taipei City speak Taiwanese or Hakka language. Some of the aboriginal people also reside in this county. In addition to abundant natural and culture features, New Taipei City is a developing city full of vigor.

In terms of the geographic location, New Taipei City encircles Taipei City, the capital of Taiwan. Therefore, a common living circle has been formed. New Taipei City is now progressing toward the goal of twin cities by proactively constructing its transportation and living networks, developing its tourism resources, and building a humanistic and dignified community, in the hope of attracting foreign visitors to the county with its cultural features, local education and recreational activities.

The New Taipei City Government attaches great importance to the maintenance and protection of historical monuments. There are 16 existing major historical monuments in this county, including: the remains of Dacha Tunnel at Fort Santo Domingo in Danshuei, which is the country's first-class historic site; the Lin Family Mansion and Garden, Guangfu Temple, Yinshan Temple, Oxford College, Huwei Fort and Shihsanhang Archaeological Site, which are second-class historic sites; and the Li Family Abode in Lujhou, which is a third-class historic site.

Because of the religious diversity in New Taipei City, churches, Buddhist temples and Taoist temples can be seen scattered around this county. These buildings not only offer peace of mind to the residents, but also possess artistic, cultural, architectural and tourism functions.

Reputed as the Palace of Oriental Art, the Cingshuei Zushih Temple in Sansia features a collection of essential art, from pillar art, wall ornamentation and painting, to sculpture and engraving. It is one of the representative examples of the country's efforts to preserve its traditional culture.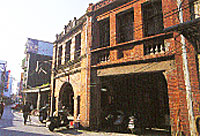 -

The launch of sky lanterns is a major folk event in Pingsi District during every Lantern Festival. Yingge District preserves the essence of Chinese ceramic art. A ceramic art museum with significant educational functions and historical meanings was constructed in 2000, in order to exhibit and preserve the characteristic cultural and artistic relics in this county.

Wulai District is located in the southeastern part of Taipei County at the confluence of the Nanshih River and Tonghou River. With its picturesque valleys, forests, rivers and high mountains, Wulai it is known as the "back garden of the greater Taipei area." Wulai is also a popular hot spring destination. The springs here are fed by slightly alkaline carbonic acid water that is clear, potable and bubbles out at a temperature of about 80 degrees centigrade.
| | | |
| --- | --- | --- |
| - | - | |
| | | |